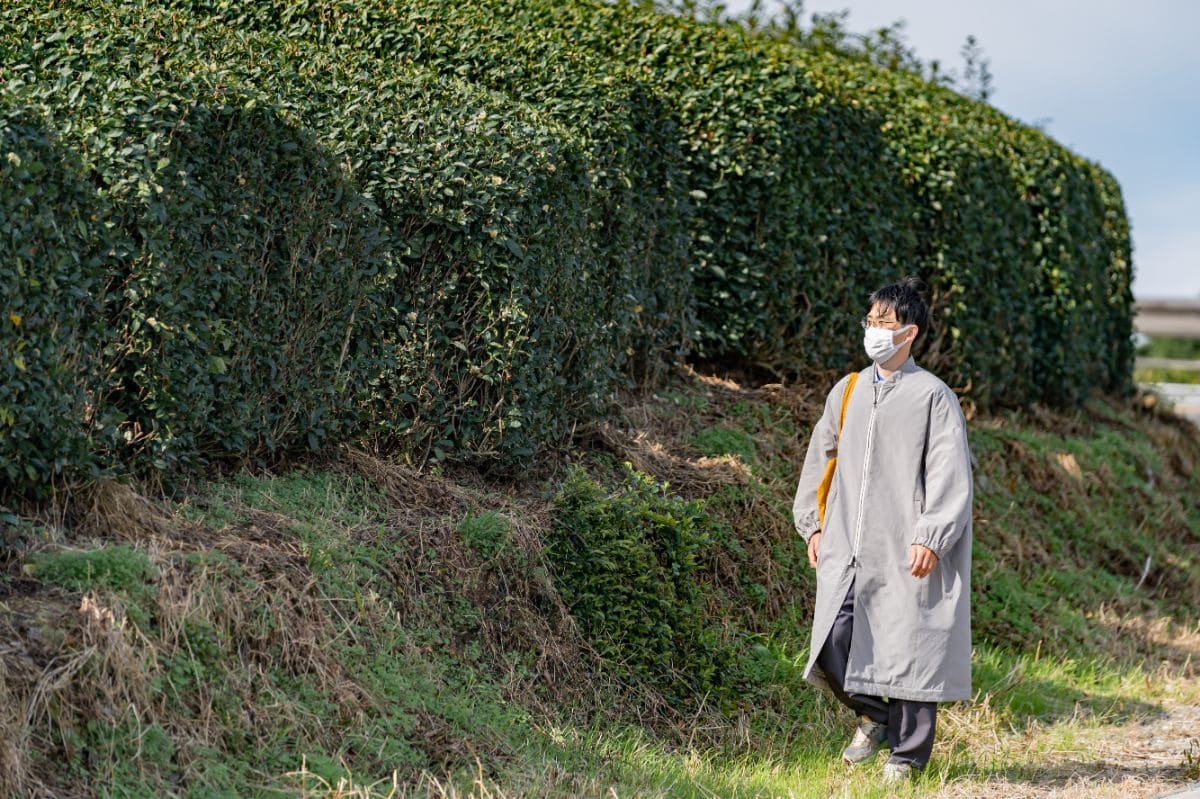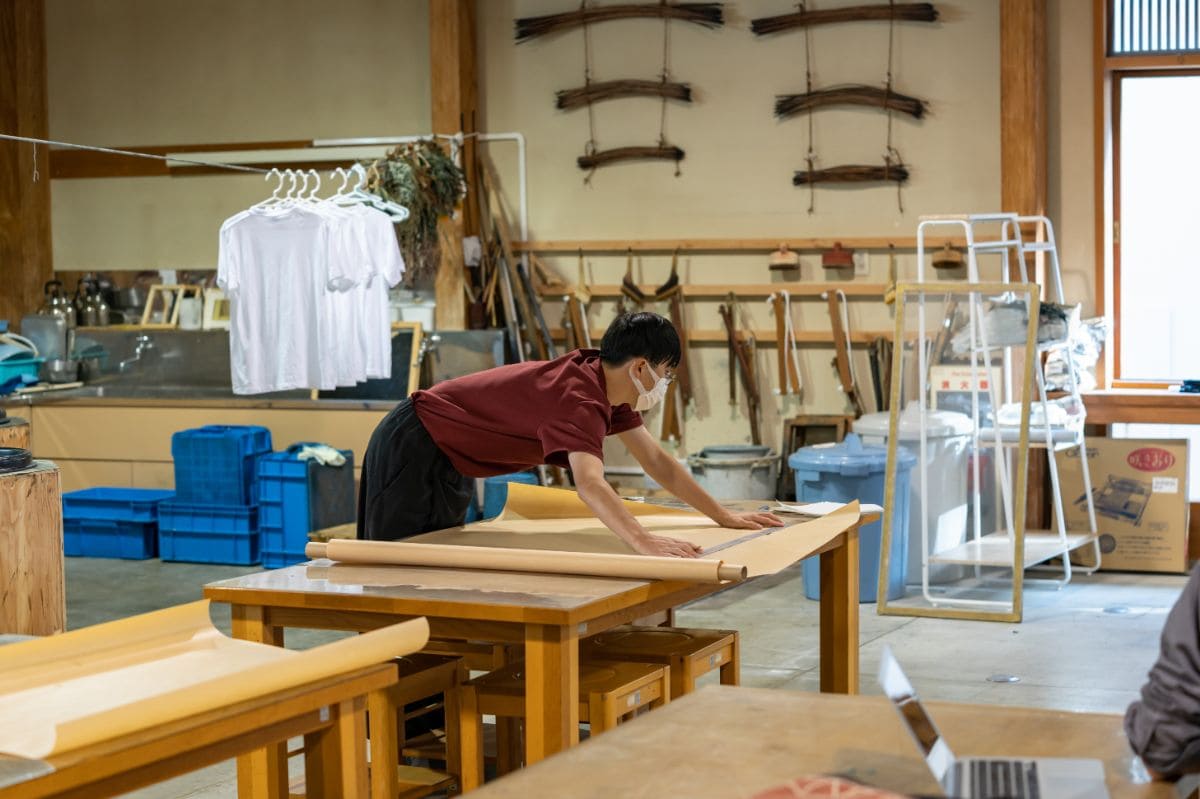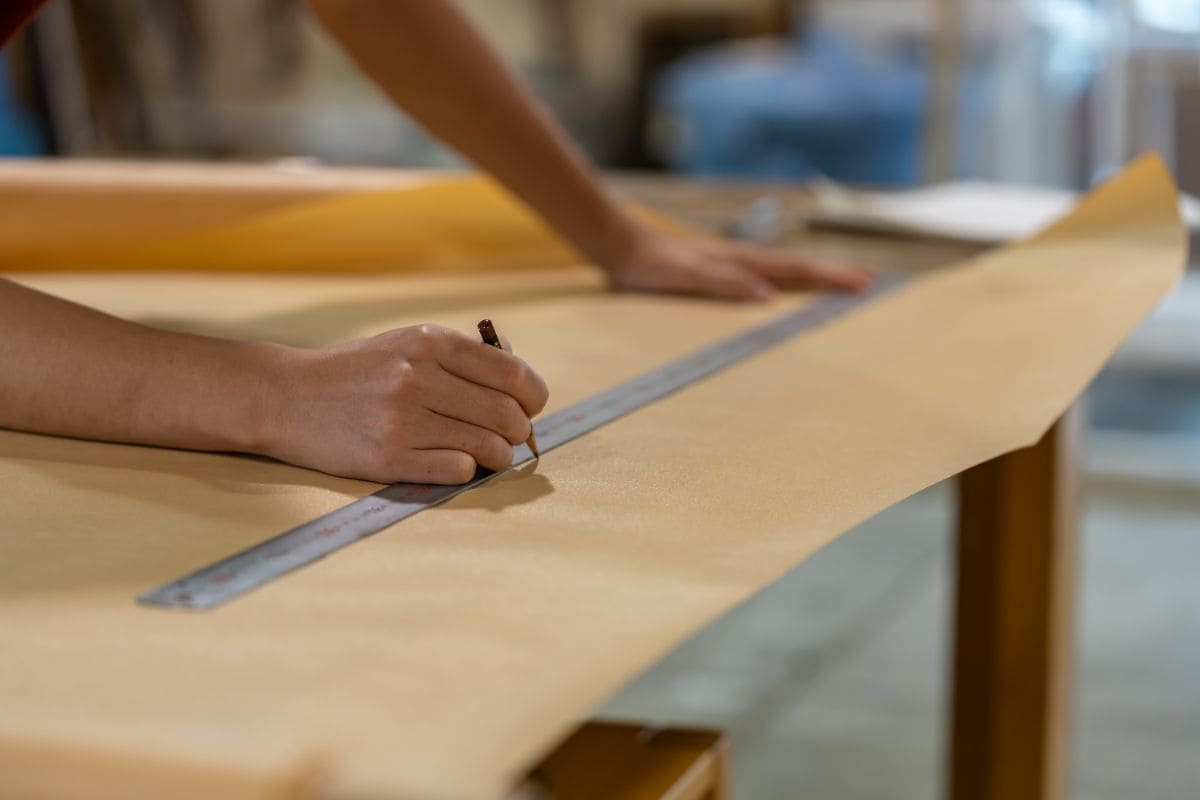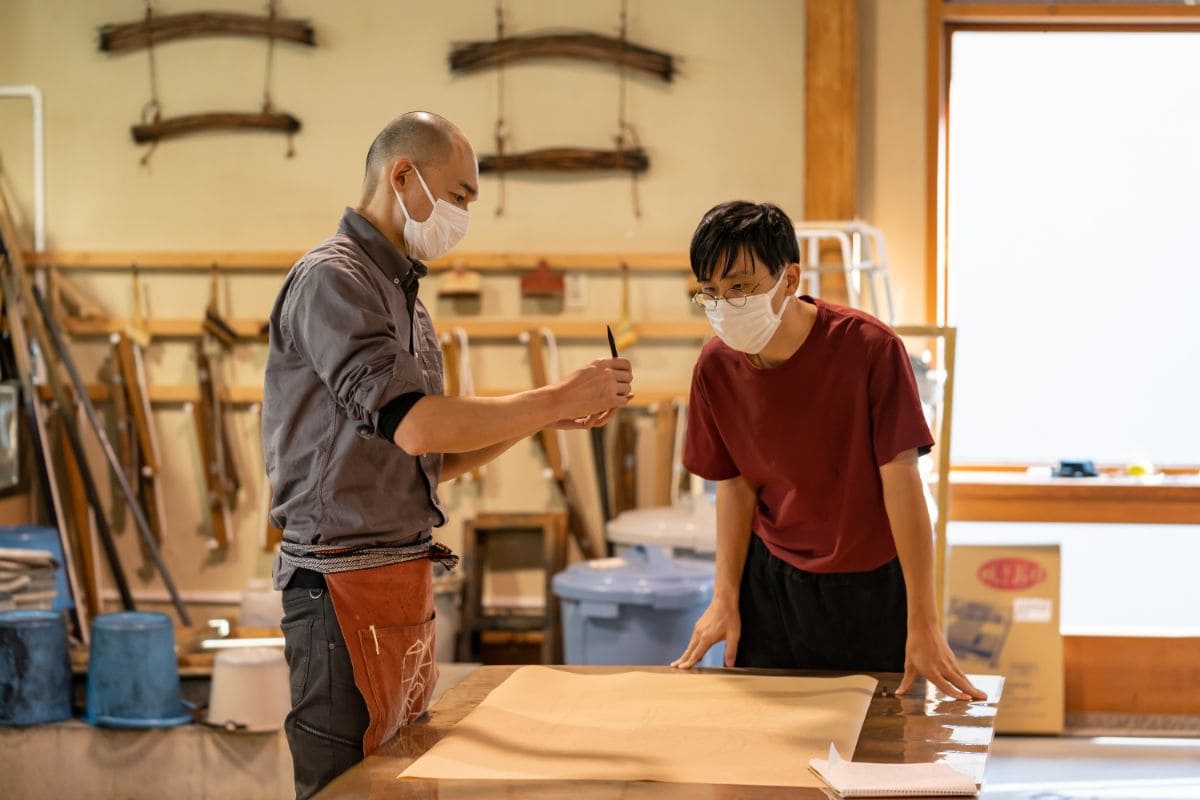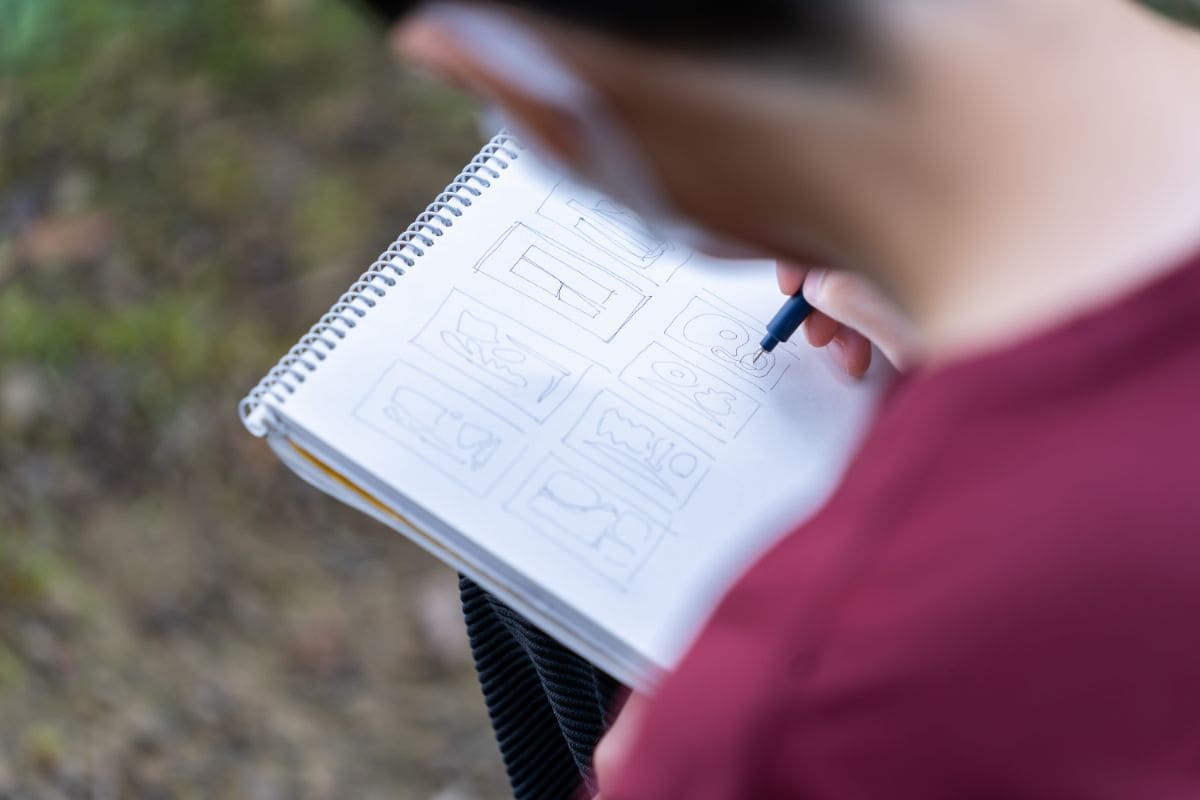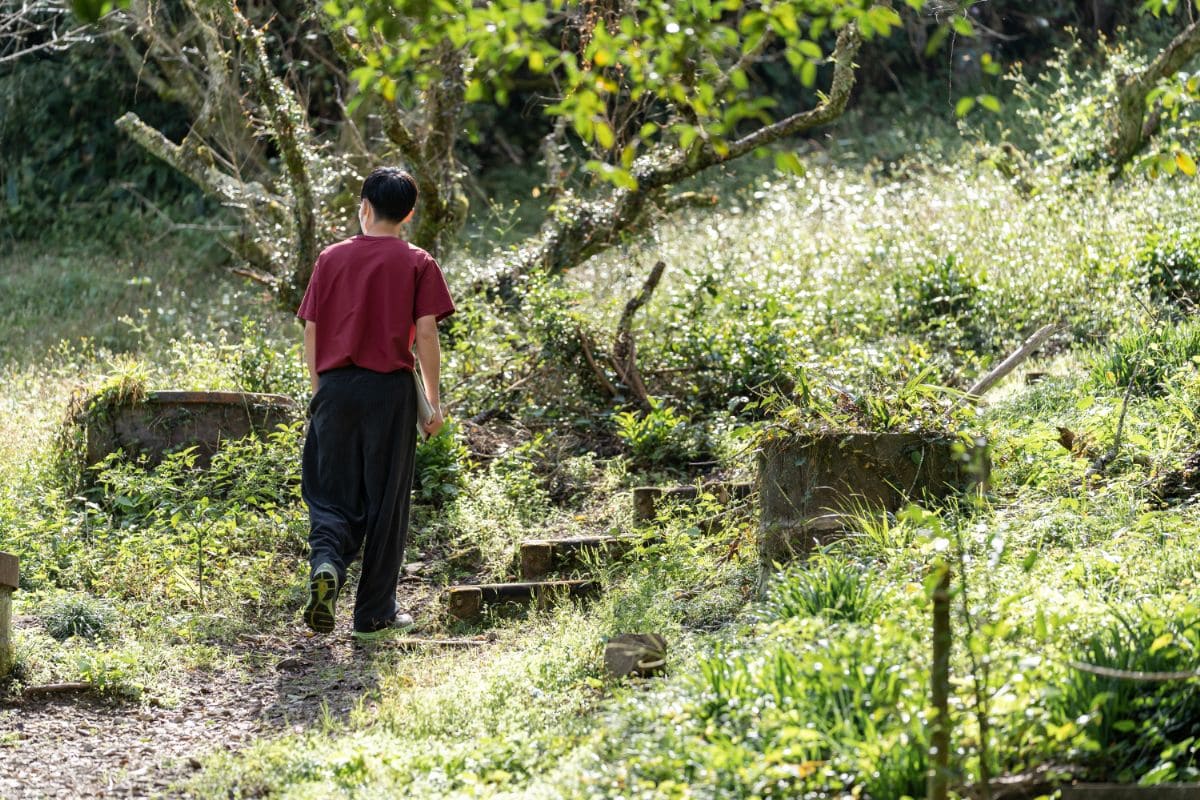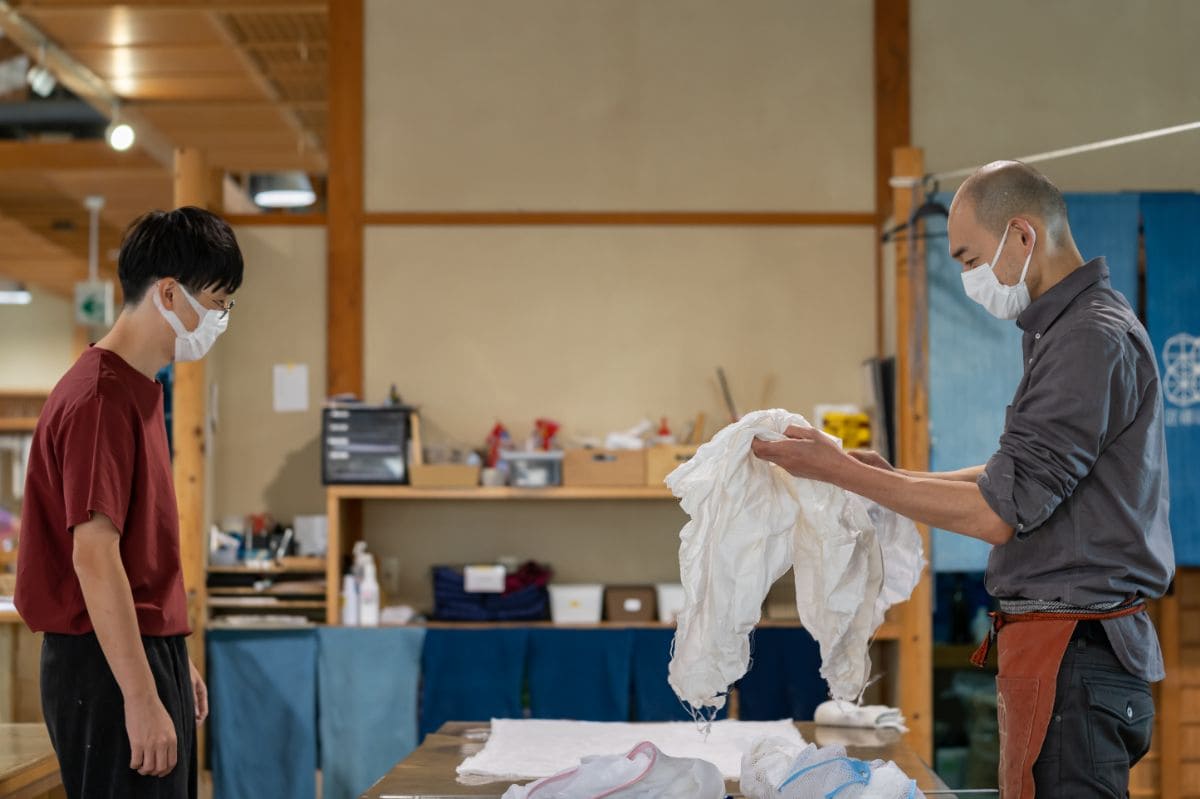 Ikki x Tea Dyeing
Say the word tea, and the idea of drinking it will most likely come to mind. Yet for Ikki Kobayashi, an entirely different world of tea came into focus during his Deshitabi experience.

The Tokyo-based graphic designer headed to Shizuoka, a mountainous region in Japan synonymous with high quality tea production, and turned his creative eye to the art of ochazome – tea dyeing.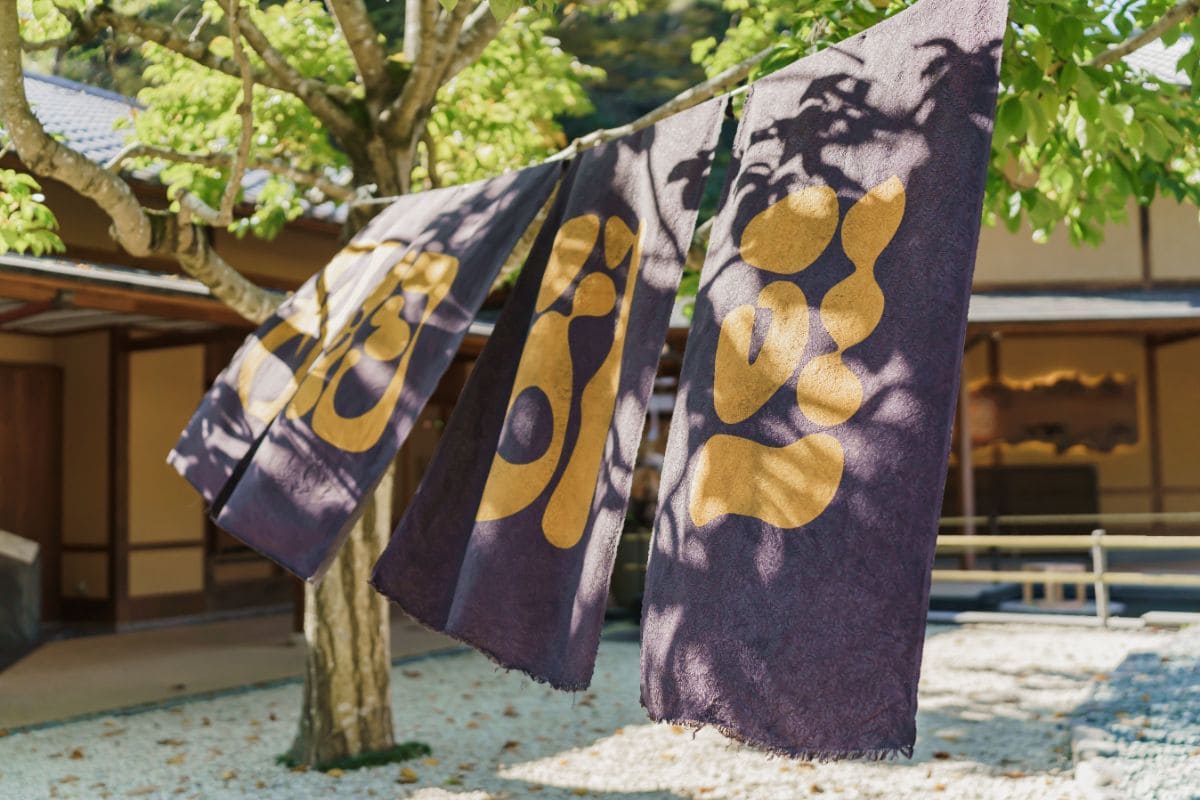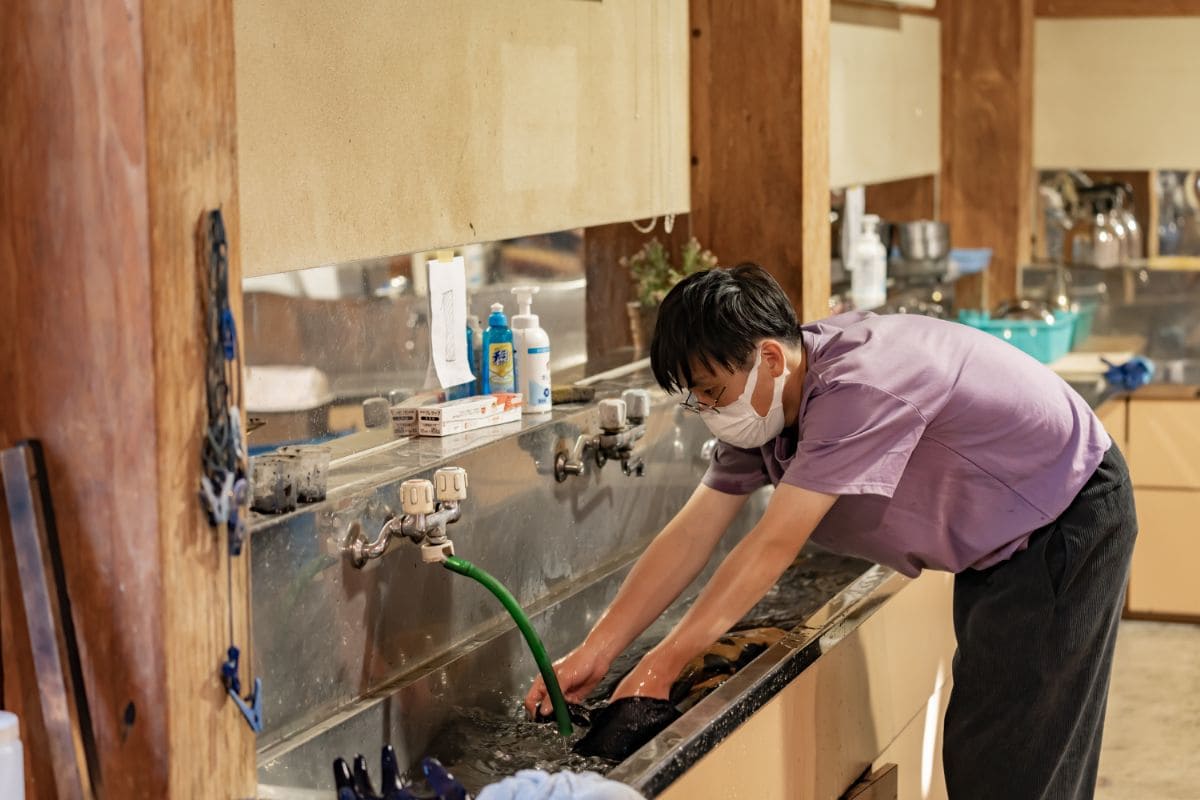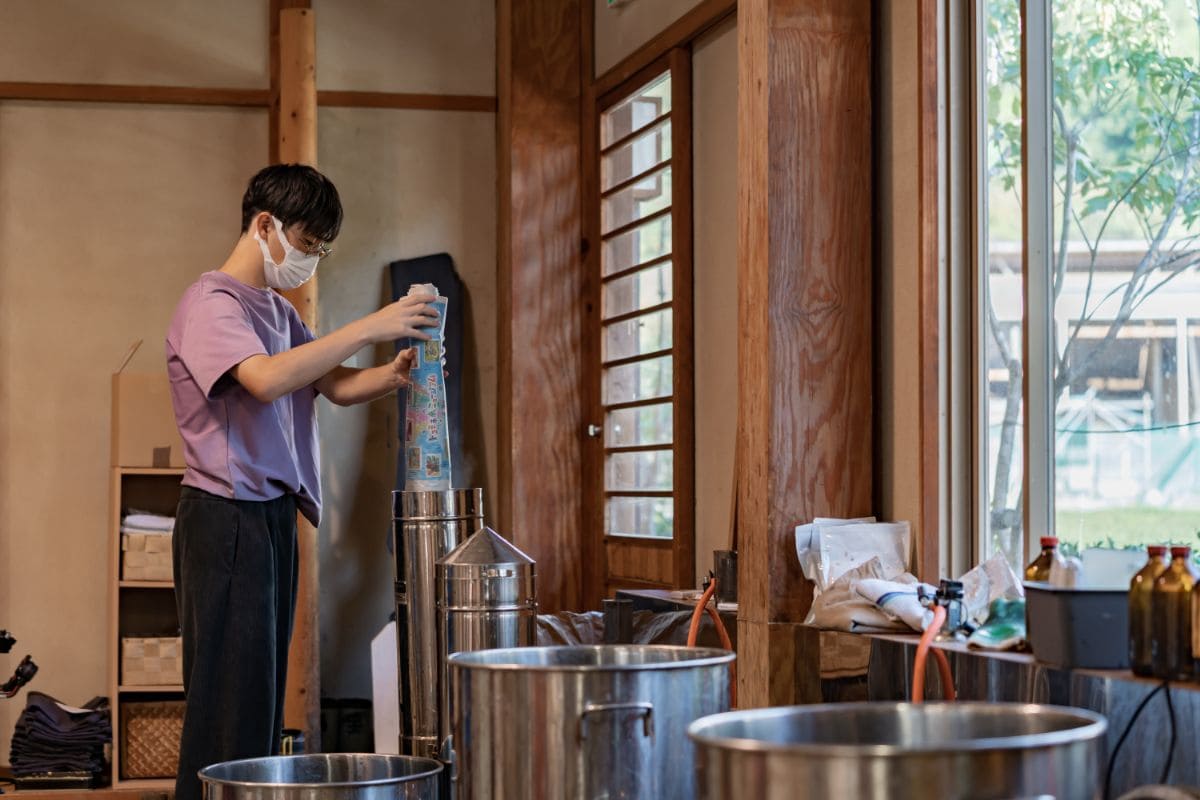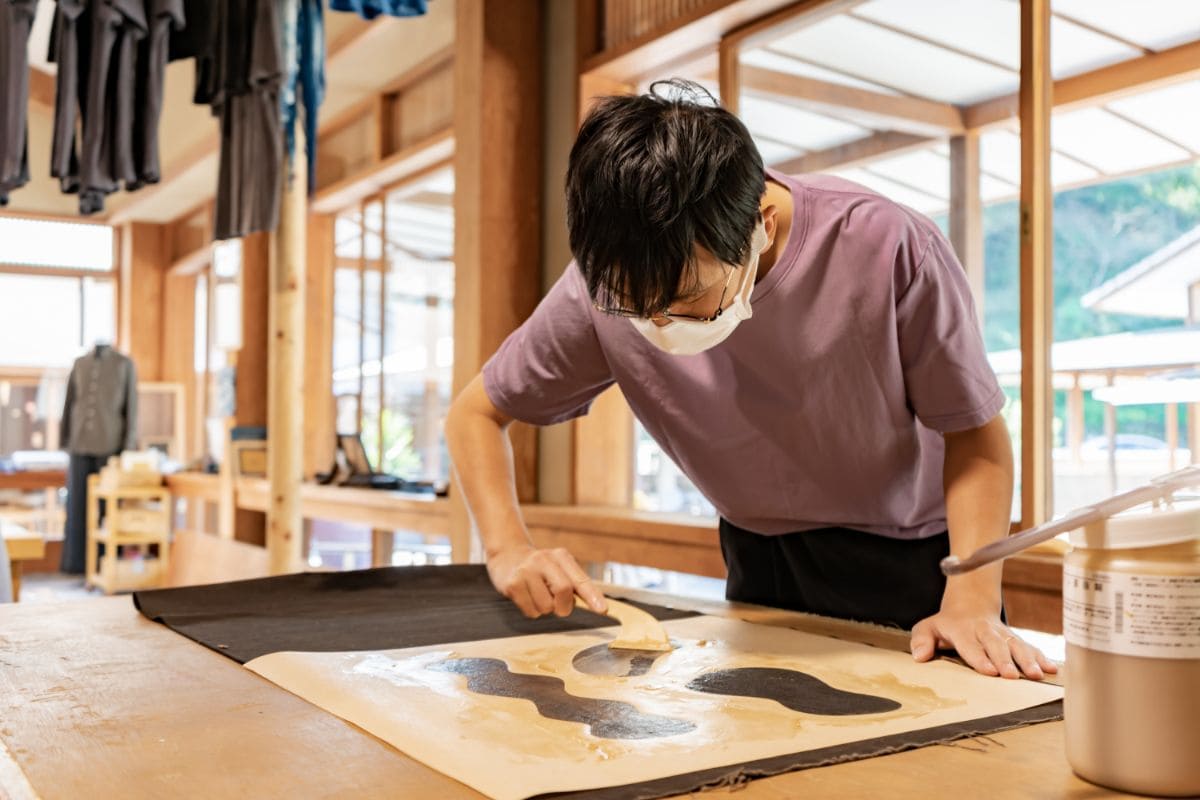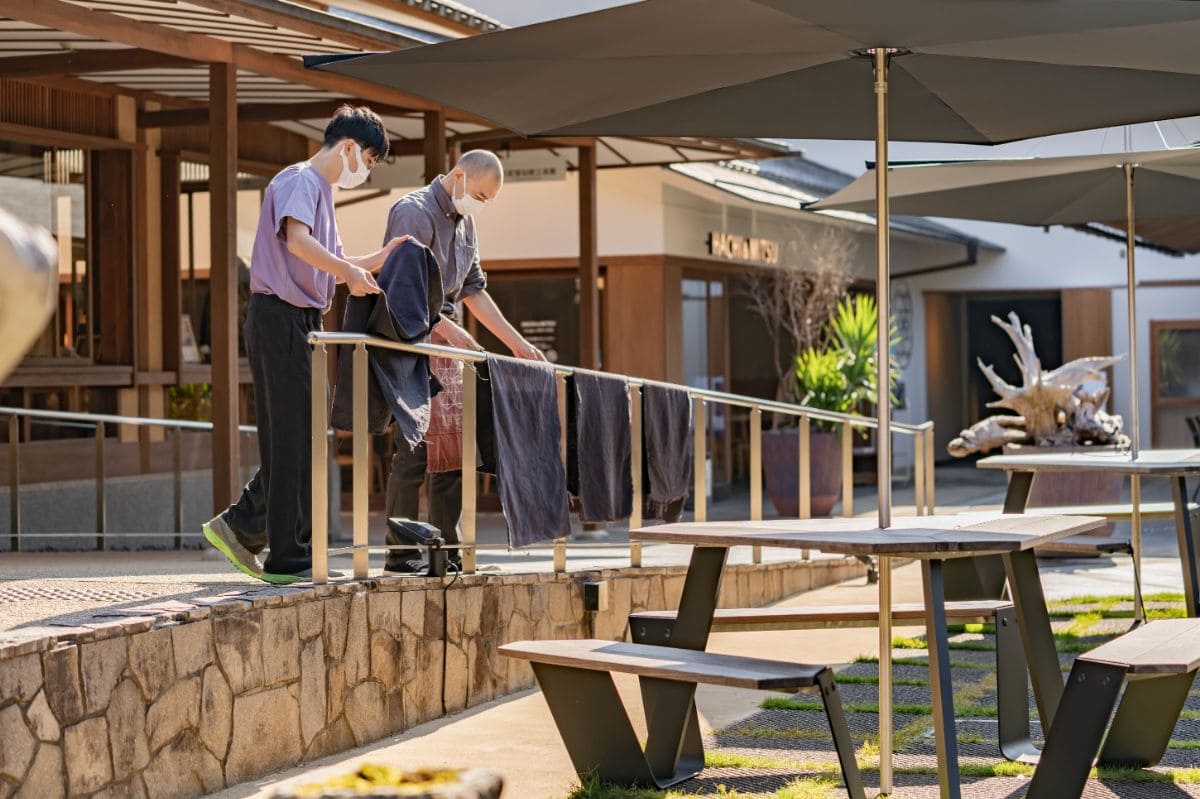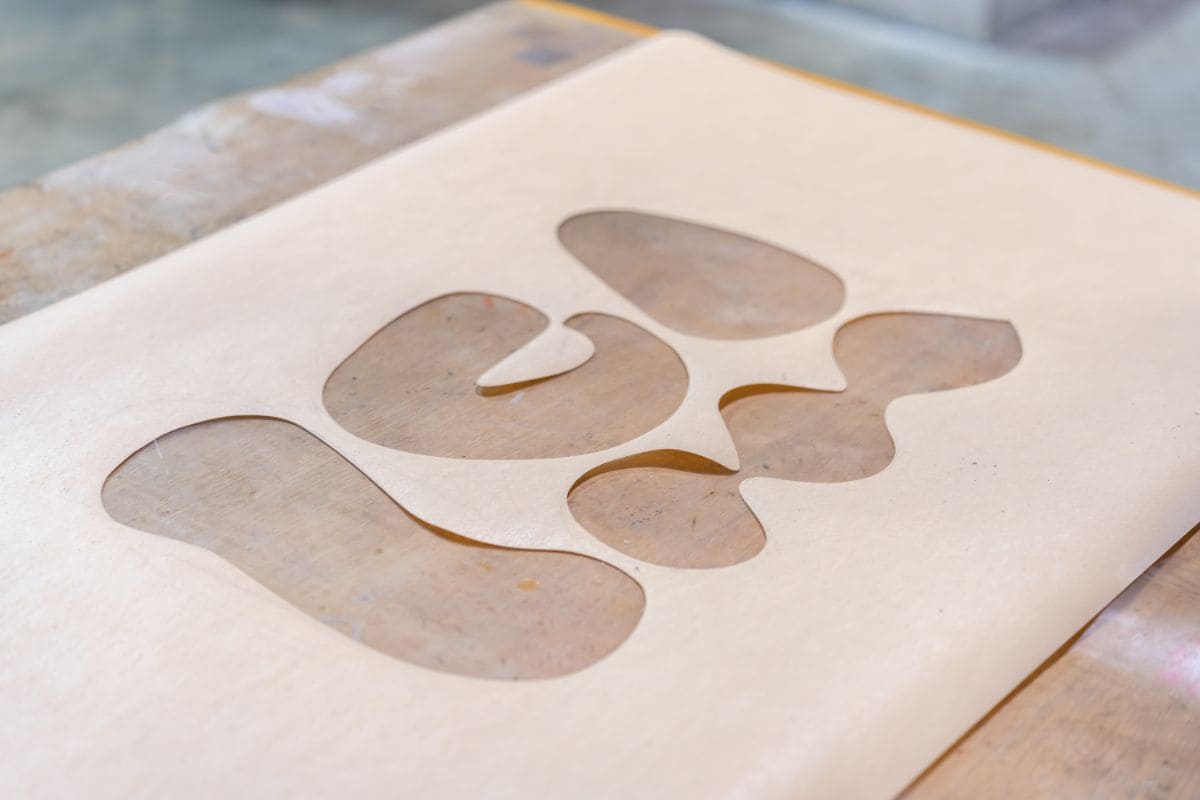 During his visit, Ikki explored the unique world of Japanese tea dyeing, known as ochazome, from the knowledgeable – and innovative – Kyoichiro Washizu, who has devoted the past 15 years to pioneering this art form.

From designing and sketching to cutting and stencilling, Ikki experienced the spectrum of processes that underpin ochazome – culminating in four contemporary wall hanging art pieces, each depicting signature organic motifs.
Ikki's experience unfolded at Takumishuku, Traditional Hand Craft Arts Center on the rural fringes of Shizuoka city – a serene contemporary cultural complex surrounded by forested mountains, with an interior garden and wooden walkways connecting a string of artisan workshops (ceramics, bamboo and woodwork are just next door to the airy sun-filled dyeing space).

Here, under the tutelage of Washizu, the designer learnt how the ochazome concept fuses two of Shizuoka's most famed exports – tea leaves plus dyeing, with the region long celebrated for its rich craftmanship heritage of stencil dyeing.
Washizu, the fifth generation of a stencil dyeing family, is the first to use tea as a dyeing material, reflecting his desire to innovate as well as tap into the region's natural resources in a sustainable way.

As he explains: "We use all the parts of tea plants that are left over in the tea making process. My intention is to spotlight tea growing in Shizuoka, where there are now many abandoned tea fields due to ageing populations."

Then, it's time to get to work. First, Ikki produces four large rectangular expanses of white kimono silk which he plans to use for his artworks, which are washed and laid outside in the sun to dry, as the tea dye is prepared.

Maths is, it seems, a useful sideline skill; Ikki learns how the fabric shrinks 20 per cent during the process, with 700g of material requiring around 350g of tea leaves, to which 50 times as much water a material is added (in total of 35 litres).

Calculations completed, two vast iron vats start heating up with oversized cotton "tea bags", which are prodded from time to time during several 20 minute stints of simmering.

As the tea dye is prepared, Ikki seeks a little creative inspiration. Spontaneously following a pathway out of the complex, he finds himself wandering along a quiet forested hillside, past fruit trees and rice fields, leading to sweeping autumnal views of the surrounding mountains.
"I could hear the birds singing and a stream flowing and see all kinds of plants and trees," he reflects. "I gave form to these sensations and created four abstract designs."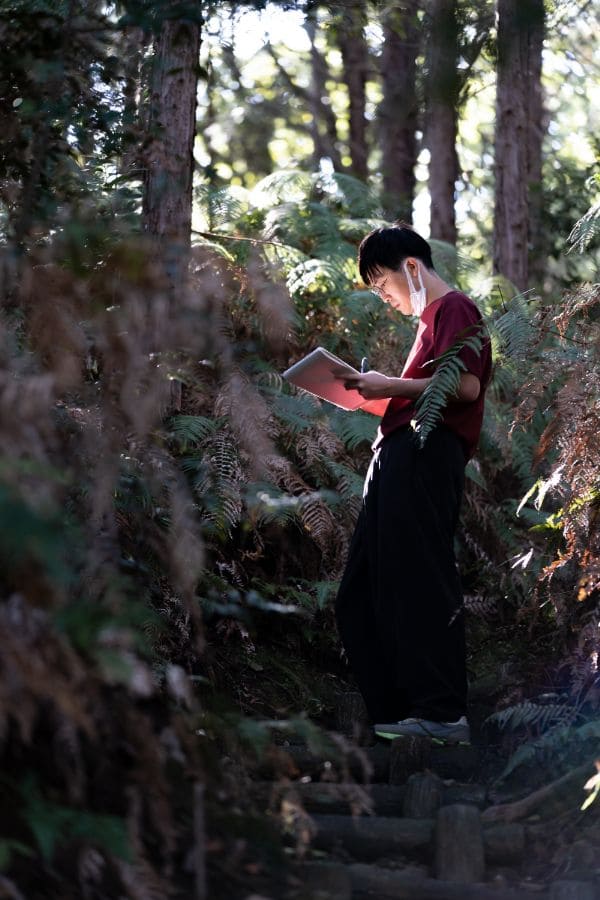 He pauses with his notepad to sketch from time to time, before returning to the workshop where he completes the finishing touches to his four designs – a minimalist medley of abstractly curved and naturally organic forms, clearly inspired by his surroundings.

"The designs come from the mountains," reflects Ikki. "I could hear the birds singing and a stream flowing and see all kinds of plants and trees," he reflects. "I gave form to these sensations and created four abstract designs."

The scent of tea lingering in the air, the rest of the day passes quickly and peacefully. The white textiles are added to the vats of dye – and then Kobayashi sketches his final designs, known in the dyeing world as shitazu, onto large sheets of brown paper, which he then skilfully cuts, in order to create stencils.

"I am deliberately cutting this very roughly, with no clean lines," says Ikki, explaining how he is inspired by the works of both Henri Matisse and Paul Klee as well as the surrounding nature.

On day two, as the textiles continue to soak in tea dye before being dried, Kobayashi takes a break from the experience and explores some spots in Shizuoka, from Nihondaira, a famed hilltop viewing spot with vistas of Mount Fuji, to a local tea farm.

The final day marks the culmination of his efforts and involves perhaps the trickiest part of the entire process: the stencilling. The carefully-cut paper with Ikki's designs is laid out onto pieces of tea-dyed fabric – now a dark shade of brown – before titanium glue is applied to the surface.

The angle of the wooden utensil used to apply the thick glue plus the direction of the pattern were both the most critical elements in ensuring an even distribution, explains Washizu.

And so, Ikki begins: slowly and carefully, he sweeps glue across the stencil on each of the four textiles. Mission accomplished, the textiles are steamed for about 20 minutes, before being rinsed in water and hung out dry in the sunshine.

The end result? Four artworks with a deeply textured dark brown background enlivened by Ikki's distinct and natural motifs in a lighter orange shade – each one balancing a rich and tactile sense of one-off craftsmanship with a timeless contemporary design.

Reflecting on the experience, Ikki says: "It is so different from just drawing. In graphic design, the final design and layout is normally outsourced to an artisan to make and it is normally realised through division of work. It was a new experience for me to get my hands on the whole process of making the stencil to dyeing. It was valuable to be able to feel the material changing during the whole process and to see it evolving into its complete form after each step."
IKKI KOBAYASHI
PROFILE
Graphic Designer. Born in 1992 in Hikone City, Shiga Prefecture. Graduated from the Department of Graphic Design, Tama Art University in 2015. After working at Shiseido's Creative Headquarters, he became independent in 2019. Recipient of Tokyo TDC Award, JAGDA New Designer Award, Japan Package Design Award Silver Prize and Pentawards Silver Award.
https://www.instagram.com/kobayashi.ikki/